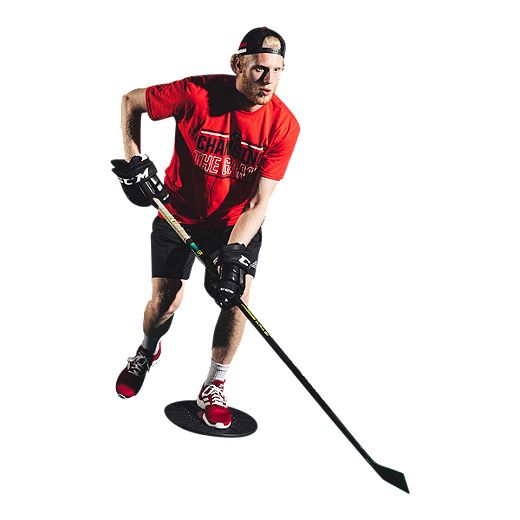 There are many ways to improve health, strength, and stamina by regularly training on a hockey balance board. If you are a hockey player that continually seeks ways to improve yourself, you might want to give a balance board for hockey a chance. There are tons of exercises and drills that you can implement on a board, here are some of the better ones that we recommend.
Squats
Once you get the hang of your hockey balance board and know how to keep yourself upright for a while it will be time to evolve into your next skillset. Leg training. You can position yourself to where your legs are shoulder-width apart then slowly squat down while keeping yourself balanced. Slowly lower yourself until your thighs are at a 90-degree angle with your spine and hold for a moment. After the pause, slowly rise up again to your normal stance. Repeat this for eight to ten reps.
Pushups
Doing pushups on the flat ground is one thing, but doing them while balancing on a board is a whole other level of training. You can choose which side you want to balance on, your feet or your hands. You can rest your toes on the balance board while you position yourself to do pushups off of the ground, or you can grab opposite sides of the balance board and balance your top half while you do the pushups. Either way, you will have the pleasure of feeling an extra burn from these crazy pushups that build more strength than regular ones.
Planks
Another exercise you can do while using a balance board is a regular plank. Just like the pushup, you can use either side of your body when you plank. Until you get used to your own body weight and the feel of your balance board it is probably best to start out by planking your upper body on the balance board by balancing your forearms on the board and planking. If you decide to plank with your feet on the board and your elbows on the ground, be prepared for more of your bodyweight to fall on your shoulders than you might be used to. Planks are challenging if you are not used to them, but if you could regular planks with your regular balance board training you will blast your core like you won't believe.
Stickhandling
Stickhandling exercises are tricky enough on flat land or skates. Try slapping the puck back and forth while standing on a balance board. With this exercise, you combine your core exercises with your hockey skills. Simply balance on the board with your stick, and make sure that you have a puck or a ball within reach to drill with. Position your legs in a hockey stance and get that stick out there. Back and forth back and forth as quickly as you can go while you hold your body stable on the board. 
Conclusion
Practicing on a balance board can be the most rewarding type of training that you do. Get creative and use your board to fine-tune the muscles that you need the most when it comes to winning games and being a champion.
***Sniper's Edge Hockey loves Canada! We proudly ship all of our products to Canada and offer the same return policies as we do for everybody else. We realize the exchange rates for the Canadian dollar are not the best right now, so we're trying to help by giving you free shipping and no customs/duty.***