Annie Hall Woody Allen 1977
Shaft Richard Roundtree 1971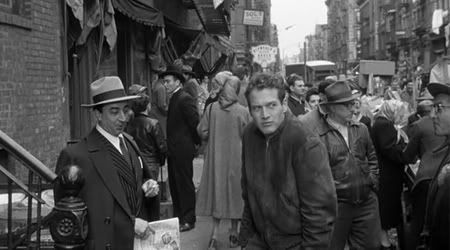 Somebody Up There Likes Me Paul Newman 1956
Dog Day Afternoon Al Pacino 1975
The French  Connection Gene Hackman 1971
Rosemary's Baby 1968 Mia Farrow
The Hot Rock Robert Redford 1972
The Seven Ups Roy Scheider 1973
The Taking Of Pelham One Two Three Robert Shaw 1974
The Wrong Henry Fonda 1956
Three Days Of The Condor Fay Dunaway 1975
A Thousand Clowns Martin Balsam 1965
The Anderson Tapes 1971 Sean Connery
Do The Right Thing 1989
West Side Story 1961
Fort Apache The Bronx Paul Newman 1981
The Naked City Howard Duff 1948
There are movies that I  say, when I was a kid yes New York's my home, regardless of the grittiness. There are movies since maybe the late 1940's. That are shot exclusively in New York City. The Naked City from 1948 comes to mine first a great crime drama Starring Barry Fitzgerald, and Howard Duff, I remember as the first film shot totally on location in New York initializing most of the 5 borough of the city. There are certain directors who love New York, and what it has to offer as a back drop. When its a romantic comedy like Woody Allen's Annie Hall, or the very dark, and gritty William Friedkin's The French Connection, or what Sidney Lumet dose so very well in films like The Anderson Tapes, and Dog Day Afternoon, actually using the city itself as a set effectively.
Movies shot in New York City Midnight Cowboy, Kramer v Kramer, Ghost Busters
As far as I'm concern it's not just a site of the Empire State building, or the Statue Of Liberty, but I like seeing parts of the city that are not  usually seen on screen. Like the Lower East Side, or Harlem. We are used to seeing Broadway, and Time Square, or the upper west or east sides. I like all the dirty areas they showed in Fort Apache the Bronx, and Brooklyn in the movie The French Connection. The Hells Kitchen scenes in West Side Story are perfect.